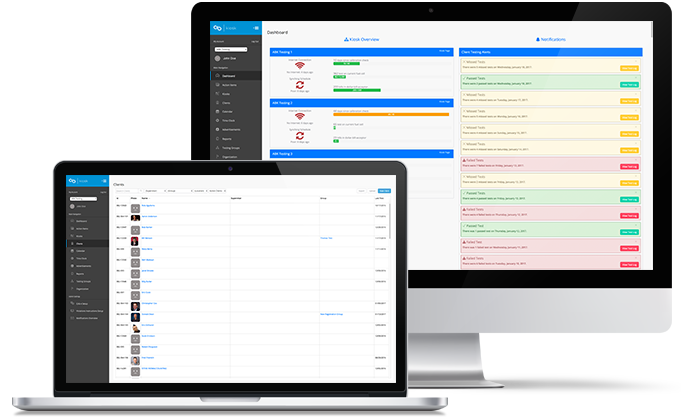 The AB Kiosk solution automates the coordination and reporting of many law enforcement, corrections, and treatment programs, making them more efficient and effective, reducing administrative costs, and freeing up personnel for higher value work.
Probation Check-ins
Throughout the U.S., many state and county probation departments are having difficulty managing the large number of probationers in their system. Clients-to-probation officer ratios of 100:1 and 125:1 are common, and probation officers are struggling to stay on top of their caseloads. The AB Kiosk increases the effectiveness of probation officers by fully automating their probation check-ins for low-risk clients. This can reduce check-in caseloads by up to 30%, and enable probation officers to focus their attention on higher-risk clients.
Pre-trial Services
Cashless bail, diversion, and jail population reduction programs are increasing throughout the U.S., allowing more people to avoid jail time while awaiting trial. The AB Kiosk enables courts and probation systems to keep tabs on their pre-trial clients by coordinating and executing scheduled or randomized check-ins. The Kiosk presents clients with a series of questions related to the conditions of their release and uploads their responses. Supervisors can also use the Kiosk to conduct randomized alcohol screenings and integrate drug-testing data in the client's file.
Work Release
Jail and corrections inmates who participate in work release programs are required to abstain from the use of drugs or alcohol. By locating an AB Kiosk in the lobby of the jail or corrections facility, administrators can quickly and easily screen work release inmates for alcohol when they return to the facility. The results of drug tests can also be integrated into the client's file for simplified reporting.
Alcohol Monitoring
The AB Kiosk solution automates and simplifies every facet of alcohol monitoring: onboarding new clients, setting random and scheduled testing frequencies, notifying clients of upcoming tests, verifying client identity, conducting breathalyzer screenings, capturing video and still photo records of the tests, logging the results, and issuing reports. Deputies, jail administrators, and supervisors spend less time coordinating and administering tests, and more time on higher value work.
Drug Testing
Data derived from a client's drug testing activity can be incorporated into his or her client-management file to build a comprehensive AB Kiosk dashboard, including drug testing, alcohol monitoring, probation check-ins, and work release screening.
Juvenile Programs
Programs designed to minimize incarceration for juveniles can be effectively monitored using the AB Kiosk for periodic check-ins and/or alcohol screening. The questions and answer functions of the Kiosk can keep tabs on an individual's place of residence, participation in treatment programs, and attendance at school.